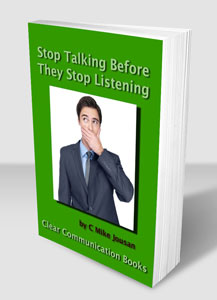 Stop Talking Before They Stop Listening
- C Mike Jousan
We have executive summaries and one page issue sheets. And... meeting and presentation time restrictions which force us to get to the point early and stop talking sooner rather than later.
Your goal should always be to get the attention of the audience immediately and tell them UPFRONT exactly where you are going and what you want. Audiences will love you, and you will climb the ladder of success more quickly!
Read this book and follow the suggestions and tips to help you Stop Talking BEFORE They Stop Listening!
(Available in e-book version for $9.99) Kindle Edition - amazon.com kindle bookstore