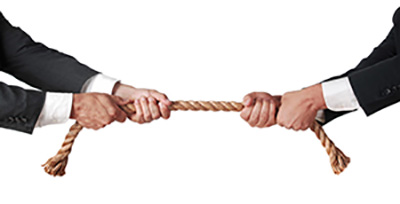 Communication is never just 50/50
A friend of mine is a marriage counselor. The first question he always asks a couple is about their communication. If one or both of them says, "I do my 50 percent," he knows he's going to have many sessions! The point: communication is never just 50/50. (A tug of war like the picture above!) Sometimes it's 60/40 or 90/10! In business communication, it's 100 percent of getting the information across and having it understood - whether it's face to face, on the phone, electronically, or even in writing.

A Three D Movie - When you communicate, remember that it's like making a 3D movie. In a 2D movie, you sit, watch, listen to what's happening up on the screen. In a 3D movie, you are "ducking", sliding down in your chair, or trying to follow what's happening physically. Apply this to your communications - all of them. You are making a 3D movie!

Energy - In addition to your content and word, you must transfer your energy with your eyes, voice, gestures, and body language. You must "touch" the audience and "move" them. I have talked with many actors about how they connect with the audience. They begin with the words in the script and then literally try to "connect" those words with the audience.

A test for you…when you complete a communication situation, in addition to having "said" something, you must feel like you have "done" something! When a person tells you they have been touched or moved…then you have communicated. So move that communication needle from 50 percent to 100 percent. And remember, communication is never just 50/50.
Mike Jousan