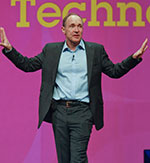 Who is Tim Berners-Lee?
I don't remember ever hearing that name until the opening ceremony of the London Summer Olympics in 2012. Tim Berners-Lee invented the world wide web! Years from now historians will rank this invention according to its effect and lasting importance.

Today, as a professional communicator, I tip my hat to Mr. Berners-Lee. How often each day do I go to the web? What percentage of the information which passes through me goes through the web? And the most important question of all, "What would I do without it?" However, having said all that, I remain convinced and committed to the power of spokencommunication. No matter has rapidly we can communicate, we usually end up talkingwith someone. And when something reallymatters, we walk down to their office, or fly to their
country and talk with them face-to-face, eye-to-eye.

I heard a story recently about a man whose 30-plus year marriage ended with a message from his now-former wife. It came by e-mail! Maybe that was less painful for her? Maybe it was cowardly…? I don't know. What I do know is that it was not personal! The bottom line... No matter what kind of advanced technological communication we can invent, we will always have to talk personally.
Mike Jousan